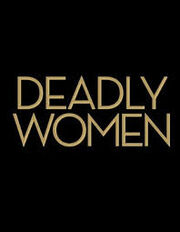 Brides of Blood
is the twenty-first episode and season-finale of
Season 6
of
Deadly Women
. It aired on January 25, 2013.
Andrea Claire was a 39 year-old former aspiring actress and a call girl. She meets a wealthy older suitor, Robert Sand, in 1981, and the couple marries shortly after meeting. But Claire does not like her fifth husband's penchant for rough sex. One night in 1981, Claire stabs Sand 27 times to death, and in 1982, she attempts to kill her sixth husband. She is serving 26 years to life in prison for her crimes.
In 1831 in North Carolina, Frankie Stewart Silver was a teenage bride and a young mother, but she and her husband, Charlie, are an explosive couple. After an angry marital argument, Silver uses a hatchet to hack her husband to death. She dismembers his corpse, then burns and disposes of his remains. After her husband's body is discovered, Silver is hanged in the gallows July 12, 1833. To this day, her father's role in the crime is still contested.
In Sydney, Australia, Danielle Stewart is an attractive and flirtatious woman, who captures the attention of 50 year-old bachelor Chaim Kimel. The duo marry, but Stewart has a drinking problem, borderline personality disorder, and a tragic past, none of which she can overcome. During an argument with her husband in 2006, Stewart stabs him to death in a drunken rage.
Community content is available under
CC-BY-SA
unless otherwise noted.