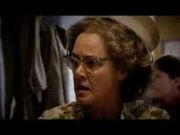 Deadly Possessions is the eleventh episode of Season 5 of Deadly Women. It aired on November 11th, 2011.
Rachel Wade and Sarah Luderman engage in an online battle for the affections of a boy and the battle enters the real world. When Sarah takes one risk too many by confronting Rachel, Rachel is armed with a knife and uses it to effectively kill Sarah.
Meanwhile, Caroline Young is so upset at the thought of losing her grandson to his biological father, she stabs both her grand-kids (ages 6 and 4) and also stabs herself (but survives) - all while her grandson's mother is watching.
And Elizabeth "Ma" Duncanhas only one man who has always stuck by her - her son Frank - and is jealous of any other woman who enters his life. So when Frank marries his pregnant girlfriend (who helped nurse Elizabeth back to health after attempting suicide) in a private ceremony, Elizabeth taunts them with phone calls, has the marriage annulled by impersonating Frank's wife, and hires two amateur criminals to kidnap and kill Frank's pregnant wife and their unborn child.