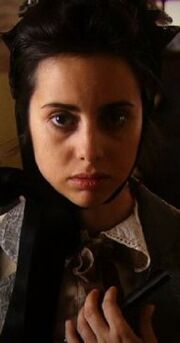 Eternal Revenge is the sixteenth episode of Season 6 of Deadly Women. It aired on November 30th, 2012.
Plot
In 1880s Los Angeles, wealthy womanizer Chico Forster courts virtuous teenager Lastania Abarta and convinces her to leave her fiance and elope with him with the promise of marriage, but he forces sex on her and then abandons her. A disgraced Lastania shoots Chico to death for stealing her virtue, and is saved from prison by a novel defense.
Diane Borchardt is a well-liked teachers' aide at school, but at home, she is physically and verbally abusive to her husband, Ruben, and his children. When Ruben divorces Diane and leaves her with nothing, she manipulates three students into murdering him, but her students give her up when she is unable to pay them as she promised.
Marcela Whaley is controlling and cruel to her girlfriend, Tzatzi Sanchez. When Tzatzi leaves Marcela for Marcela's ex-girlfriend, Marcela hires two thugs to rape and murder Tzatzi, then flees Las Vegas for Mexico, where local authorities prosecute her for the murder as she and Tzatzi are both Mexican nationals.