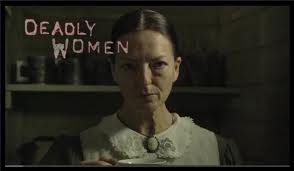 Hearts of Stone is the fourth episode of Season 5 of Deadly Women. It aired on August 12th, 2011.
Mother and wife Lydia Sherman laces food and drinks with arsenic, killing three husbands and all of her children.
Meanwhile, young mother Paula Sims murders her two young daughters, but lets her son live due to her personal view that girls were unwanted.
And, during the 1970's, under the influence of serious drugs, Velma Barfield plays caretaker while secretly killing people with arsenic. Away from the drugs, she becomes the 'angel of death row' before being executed.
Community content is available under
CC-BY-SA
unless otherwise noted.