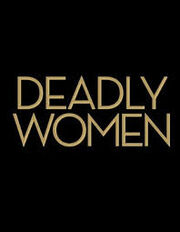 Killer Kids is the twenty-first episode of Season 5 of Deadly Women, and the season 5 finale. It aired on January 27th, 2012.
Spending most of her life in expensive British boarding schools, American teen Elizabeth Haysom is an honor student who has plans to study the arts, but her parents have other ideas and give her an ultimatum – take science and math classes at college or they won't pay for her to go to her dream school. Rebellion controls her mind and when she's had enough, she gets her boyfriend to destroy them both.
Meanwhile, Heather D'Aoust is the 15-year-old adopted daughter of a loving couple, but after she is caught engaging in sexual activity with a female friend, she decides to kill her mother with a claw hammer.
And Nikki Reynolds grows up happy and wholesome, but that changes when she's dumped by her boyfriend. After spreading false rumors that she's pregnant, her mother seeks psychological help and constant arguing drives a wedge in the family. Planning to kill both parents, Nikki stabs her mom fatally, but is too broken up to finish the job and turns herself in.
Community content is available under
CC-BY-SA
unless otherwise noted.