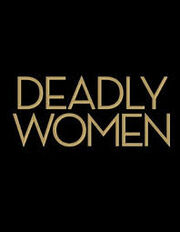 Love Gone Wrong is the twelfth episode of Season 4 of Deadly Women. It aired on November 4th, 2010.
Plot
Under the influence and with her boyfriend, Christine Paolilla murders her four best friends in a robbery gone wrong in Houston and remained on the loose for years. Even during that time, however, she wasn't exactly free as she was being haunted by her murdered friends.
Meanwhile, Penny Boudreau's boyfriend was sick of the bickering between her and her 12-year-old daughter, so he said "either she goes or I go". Upon saying that, he meant that she must go to live with her father, but Penny took things too far and strangled her only child to keep her boyfriend.
And Jennifer Hyatte fell in love with a prisoner while working as a nurse and they got married. After her husband's latest parole hearing, she showed up at the courthouse with a gun and shot a guard to free her husband. On the run, they saw a news story at a hotel, revealing that the guard died on the way to the hospital and that branded Jennifer and George as murderers.