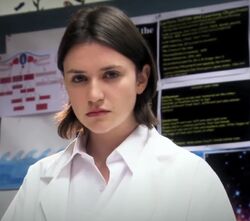 Marie Robards was an American teenager who is known for the poisoning murder of her father in 1993, at age 16, in Fort Worth, Texas.
Robards was convicted of murder in a 1995 trial and sentenced to 27 years in prison. She was released on parole in 2003. She is believed to now be living under a new private identity.
She appeared in Deadly women's episode Parents Peril where she was portrayed by Actress Madeleine Levins who also portrayed "Nicole Yesconis" in In the Family . Her case was also covered by American TV series Forensic Files in its episode "Death Play".
The murder
In 1993 in Fort Worth, Texas, 16-year-old Marie Robards suffered the devastating loss of her father Steve Robards. The death was ruled the result of cardiac arrest. One year later, she won a part in her high school production of Shakespeare's Hamlet.
The lines that she was required to recite onstage were more than the thoughts and feelings of her character; they struck a chord, and hinted at her own inner turmoil from the secret that she had been hiding: barium acetate obtained in her high school chemistry class.
Gallery
External Links