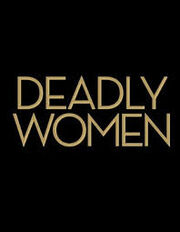 Parents Peril
is the second episode of
Season 6
of
Deadly Women
. It aired on August 24th, 2012.
Missing her mother's companionship, beautiful and intelligent high school student Marie Robards poisons her loving father to move back in with her mom. She keeps it a secret for a year until her college roommate recites Claudius's guilt monologue from Hamlet, causing her to break down.
Meanwhile, the ways of wild, promiscuous "jazz baby" Dorothy Ellingson don't mesh with those of her old-fashioned parents who try to keep her from partying. Enraged at her parents and desperate for freedom, Dorothy shoots her mother in the head twice and goes partying afterwards. In prison, she appears to change her ways and begins to give lectures to teenagers on the dangers of delinquency.
And Brigitte Harris visits her sister and is surprised to see that also visiting is their child molester father who had been living in Liberia for several years. After he announces that he plans to return to Africa with his granddaughter; Brigitte handcuffs, suffocates and castrates her father to save her niece from a dreadful fate.