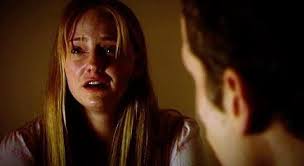 Senseless Slayings is the seventeenth episode of Season 5 of Deadly Women. It aired on December 30th, 2011.
Tina Powell and LaFonda Foster are drunk and high when they go on a killing spree, taking five friends hostage and brutally killing them all one by one in different ways. The night proves to be the deadliest in the history of Lexington, Kentucky.
Meanwhile, Melinda Harmon-Raisch is a Christian housewife who falls for a star-student at a nearby college. Since she views divorce sinful, she has her lover murder her husband so they can be together and they pin it on two black people. Strangely enough, the two go on to marry other people and the secret is hidden for a decade.
And, after losing her husband and two sons in the Melbourne gang wars, crime family queen and professional thief Judy Moran tries to save her own skin by executing her brother-in-law.
Community content is available under
CC-BY-SA
unless otherwise noted.