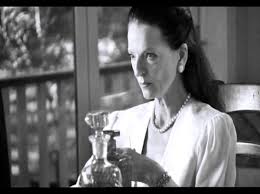 Sins of the Sister is the thirteenth episode of Season 5 of Deadly Women. It aired on November 25th, 2011.
Sarah Mitchell lives rent-free in the house of her hard-working, well-to-do older sister Stevie. When Stevie cuts her off after learning Sarah had been stealing money and writing checks in her name, Sarah's plans go from devious to diabolic by killing, dismembering and re-emerging from a fire as her sister.
Meanwhile, twin sisters, wholesome school-teacher Peggy Lowe and flashy, audacious nurse Betty Wilson find themselves caught in a web of deception and mystery after a man they both met murders Betty's ailing husband (a well loved eye-doctor whom Betty married for money) and claims they both made him do it. The truth is one that shakes Huntsville, Alabama to its core.
And Kathleen Worrall suffers from a hormonal disease, but the medicine causes weight gain, so she stops taking it. As a result, the tiniest things set her off and one mistake leads to her stabbing her younger sister Susan.