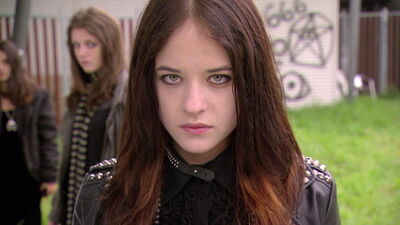 Teen Terror is the nineth episode of Season 6 of Deadly Women. It aired on October 12th, 2012.
Plot
Natasha Cornett is an outcast in her rural Kentucky town due to her Gothic appearance and devil worship. However, she soon finds like-minded friends, who decide to embark on a killing spree. In 1997, Natasha and her gang are responsible for the killings of a Jehovah's Witness family at a Tennessee rest area. Natasha and her gang each get life without parole.
Meanwhile, Brooklyn teen Tiana Browne appeared to have a promising start in life, until she was raped and ran away from home. Taken in by her aunt, Tiana becomes roommates with her cousin Shannon, who is a straight-A student, but Tiana resists their efforts to help her get on the right track. Tiana, jealous of her cousin's success, stabs Shannon to death, then steals Shannon's sneakers and cell phone.
And Australian teenager Helen Moore is every parents' worst nightmare. In 1979, while working as a babysitter, she suffocates two infants in her care. Thereafter, she strangles her seven-year-old brother to death, and is turned in by her devastated mother. She receives a life sentence, but is paroled after only thirteen years.