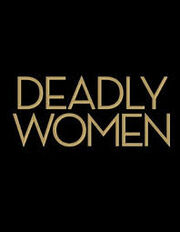 Too Close for Comfort is the tenth episode of Season 6 of Deadly Women. It aired on October 19th, 2012.
Plot
Malaika Griffin is known as a brilliant chemist who graduated from college cum laude, but has a hot temper and harbors an intense hatred for white people. One night, she gets into a heated argument with her white neighbor, Jason Horsley, and his girlfriend. When the girlfriend leaves, Malaika shoots Jason in the back and flees as he dies, evading capture for several years.
Meanwhile, Ellen Etheridge is ecstatic when she gets to marry her new millionaire husband after his wife passes away. However, she's not so fond of having to fight for his love due to her eight new stepchildren and finds pleasure in poisoning them with lye to get her way. She ultimately kills four children and is suspected of killing her husband's first wife as well.
And Scottish restaurant chef Pamela Gourlay takes a dangerous mix of pills and pot with her boyfriend, but soon finds herself low on cash as a result. High as a kite, she fixes her problem by brutally stabbing her neighbor Melanie Sturton to death and stealing a few dollars and a gift card.