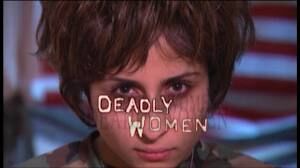 Twisted Minds is the third episode of Season 2 of Deadly Women. It aired on February 28th, 2009.
Plot
In a rage driven by years of untreated schizophrenia, 25-year-old Sylvia Seegrist opened fire on innocent shoppers in a Philadelphia-area mall in 1985.
Meanwhile, twelve years later, in Sherwood, Arkansas, depression drove Christina Marie Riggs to smother her own children to death and attempt suicide afterwards.
And in St. Petersburg, Florida, Bobbie Sue Dudley, a registered nurse suffering from Munchhausen syndrome, murders twelve nursing home residents by overdosing them with insulin injections.