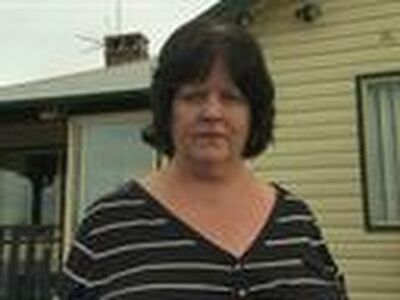 Web of Death is the fifth episode of Season 6 of Deadly Women. It aired on September 14th, 2012.
Elisa Baker has her online lover/husband and his young daughter move from Australia to North Carolina to be with her. Elisa takes delight in torturing her stepdaughter Zahra, who earlier survived bone cancer that left her almost deaf and took one of her legs. Zahra eventually dies and Elisa dismembers her body.
Meanwhile, Della Sutorius comes off as a sweet, charming and beautiful woman to the men who fall in love with her, but her true colors come out after the weddings. She turns out to be a greedy, violent monster whose five husbands end up either on-the-run, abused, or (in the last husband's case) murdered for money.
And Sandy Cain ditches her life in New York to be with a bounty hunter husband named Frank in Las Vegas, whom she meets over the Internet. However, after they marry, Frank is revealed to be manipulator who gave Sandy nothing she had been hoping for. Feeling fed up due to his betrayal, she shoots him and tries to save herself by trying to make it look like a self-defense attempt gone wrong.