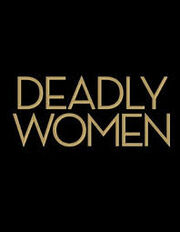 Without Conscience is the seventeenth episode of Season 6 of Deadly Women. It aired on January 4th, 2013.
Plot
Gunn-Britt Ashfield loathes her six-year-old son, John, because he reminds her of her ex-husband, Brian. She and her live-in boyfriend, Austin Hughes, falsely accuse John of molesting his sister and brutally beat him to death, then claim John was attacked in a park, but the police are not fooled. Upon her release from prison, Gunn-Britt changes her name to "Angelic."
In 1950s Cincinnati, Edythe Klumpp convinces her married lover, Bill Bergen, to pose as her husband so she can get a bank loan, but fears that Bill's wife, Louise, will expose her ruse. Edythe shoots Louise, keeps Louise's corpse in her car while she teaches a sewing class, then tries to burn the body.
Drug-addicted stripper Kelly O'Donnell has had a life of tragedy, but she can always count on her old flame, Terry Eleftheriou, to give her money when she needs it. He is repaid with death: Kelly lures him to her apartment with the promise of sex and then bludgeons him repeatedly, and then her lover, Bill Gribble, finishes the job by dismembering Terry's body - while Terry is still alive.