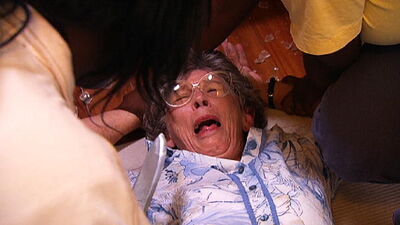 Young Blood is the first episode of Season 3 of Deadly Women. It aired on September 21st, 2009.
In Newcastle upon Tyne, England, 10-year-old Mary Bell becomes a murderer after she strangles a 4-year-old boy to death on May 25, 1968, just one day before her 11th birthday. Two months later, at age 11, Bell murders another little boy.
Meanwhile, in Fayette County, Georgia, troubled teen lovers Holly Harvey and Sandra Ketchum are forbidden from seeing one another by Holly's grandparents. Holly resents her grandparents and their strict rules, and with the help of Sandra, the two teens decide to murder the elderly couple by stabbing them to death.
And in Gary, Indiana, 15-year-old Paula Cooper and her friends need some quick cash so they decide to rob 78-year-old Bible teacher Ruth Pelke under the pretense of asking for Bible lessons. Upon allowing the girls into her home, Ruth Pelke is brutally stabbed to death by the ringleader of the clique, Paula Cooper